Ceiling Pro Provides a Cost Saving Solution For a New Hospital's Ceiling Panels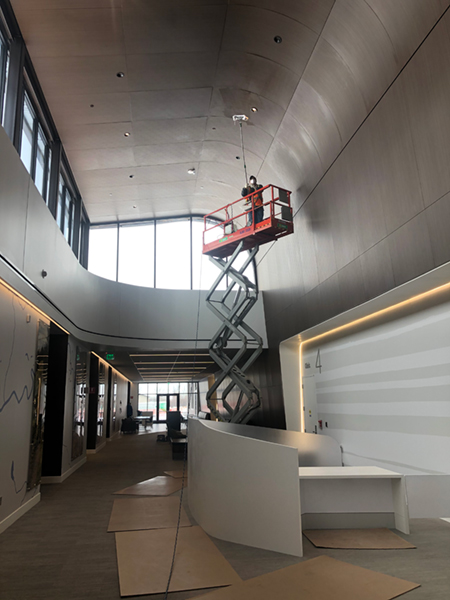 The Right Solution to Get the Job Done!

As a rural health clinic and hospital in Minnesota, it was exciting to be putting the final touches on a new building! The move-in was just days away. Until the ceilings were installed…

When the ceiling panels came from the manufacturer, they had an oily finish applied to them. The manufacturer from California found Ceiling Pro International™ on Google™ and contacted us to see if we could remove the oil. Otherwise, thousands of dollars would need to be spent to remove the ceiling panels, send them back to California, send new ones back to Minnesota, and replace all those panels! This would also delay the project several more weeks, waiting for the new panels to arrive and be installed.

The contractor met with our salesperson, Carlos Perez, and immediately was impressed with his knowledge of the products and the expected results of using our solutions. The company decided to use Ceiling Pro as we had the right person showing them what we could do for them and our determination to complete the job in a timely fashion before the opening. Our solutions would do the job, save thousands of dollars, and a lot of time. They made the right choice!

Because the ceiling panels had already been installed, lifts were needed to get up into the high arches of the entryway and hallway. Several panels were removed and brought back to our corporate headquarters in Eden Prairie so our team could try our various proprietary solutions, or combinations of those solutions, to determine just the right ratio to remove the oily film. Then our crew of workers, led by Carlos and our General Manager, Oscar Ramirez, working high on lifts, set about cleaning the panels. Each 4-foot by 8-foot section had to be sprayed and wiped down to remove the oil.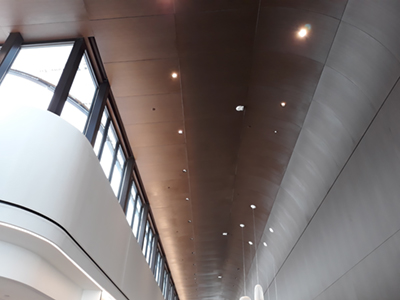 Carlos worked closely with the administrator throughout the process and went the extra mile, even as clinic and hospital equipment and supplies were being moved in, he was working to finish the job and meet the deadline of the opening later that evening at midnight. After nearly two weeks of consistently cleaning hundreds of individual panels, the oil was removed and all remnants were gone and the ceilings looked amazing!

When the job was completed, the clinic/hospital administrator and the owner/builder were on hand for the final inspection. They were both incredibly happy with the work Ceiling Pro had done and the time and effort that was extended to find the right solution to complete the job. Each of them gave a 'thumbs up' as the facility opened in late February.
If you have a problem, we may have a cost-saving solution, call Ceiling Pro today!